When you climb a flight of stairs or carry a heavy book bag across campus, you're relying on your muscular strength and endurance to perform the task without becoming exhausted. If you've ever worked in a job that required you to shuttle loaded trays of food among tables or move boxes from points A to B, you've relied on strength and endurance to earn your living. And if and maintain body tissues. An elevated metabolic rate allows the body to burn more calories throughout the day. Conversely, a lower metabolic rate burns fewer calories, thereby leading to weight gain.
How does strength training influence resting metabolic rate? One of the primary results of strength training is an increase in muscle mass in relation to body fat. An increase of 1 pound of muscle elevates resting metabolism by approximately 2-3%. This increase can be magnified with larger gains in muscle. For instance, a 5-pound increase in muscle mass results in a 10-15% increase in resting metabolic rate.
Changes in resting metabolic rate of this magnitude can play an important role in helping you lose weight or maintaining desirable body composition throughout life. Although overall body weight may increase slightly as muscle mass increases, fat mass should decrease.
Make sure you know…
Muscular strength and endurance are important for numerous daily tasks. Strength training can reduce low back pain, reduce the incidence of exercise-related injuries, decrease the incidence of osteoporosis, and help maintain functional capacity that normally decreases with age.
Muscular strength is the ability to generate maximal force, whereas muscular endurance is the ability to generate force over and over again.
Strength training can improve a muscle's resting energy expenditure.
How Muscles Work: Structure and Function
There are about 600 skeletal muscles in the human body, and their primary function is to provide force for physical movement. When the muscles shorten or lengthen during a muscle action, they apply force to the bones, causing the body to move. The skeletal muscles also are responsible for maintaining posture and help regulate body temperature through the mechanism of shivering (which results in heat production). Because all fitness activities require the use of skeletal muscles, anyone beginning a physical fitness program should understand basic muscle structure and function.
Muscle Structure
Skeletal muscle is a collection of long, thin cells called fibers. These fibers are surrounded by a dense layer of connective tissue called fascia that holds the individual fibers together and separates muscle from surrounding tissues. Muscles are attached to bones by connective tissues known as tendons. Muscular action causes the tendons to pull on the bones, thereby causing movement. Muscles cannot push the bones; they can only pull them.
Muscle Function
Muscle actions are regulated by electrical signals from motor nerves. Motor nerves originate in the spinal cord and send messages to individual muscles throughout the body. A motor nerve and an individual muscle fiber make contact at a neuromuscular junction. Note from the figure that each motor nerve branches and then connects with numerous individual muscle fibers.
The motor nerve and all of the muscle fibers it controls comprise a motor unit. Motor units come in various sizes, depending on how many muscle fibers they contain. A motor nerve can innervate a few muscle fibers for fine motor control, such as blinking the eye, or it can innervate many muscle fibers for gross motor movement, such as kicking a ball. A muscle action begins when a message to develop tension (called a nerve impulse) reaches the neuromuscular junction. The arrival of the nerve impulse triggers the action process by permitting the interaction of contractile proteins in muscle. Just as the nerve impulse initiates the contractile process, the removal of the nerve signal from the muscle "turns it off." That is, when a motor nerve ceases to send signals to a muscle, the muscle action stops. Occasionally, however, an uncontrolled muscular action occurs, which results in a muscle cramp or a muscle twitch.
Muscle Exercise and Muscle Actions Skeletal muscle exercise is classified into three major categories: isotonic, isometric, and isokinetic.
Isotonic (also called dynamic) exercise results in movement of a body part at a joint. Most exercise or sports activities are isotonic. For example, lifting a dumbbell involves movement of the forearm and is therefore classified as an isotonic exercise. An isometric (also called static) exercise requires the development of muscular tension but results in no movement of body parts. A classic example of isometric exercise is pressing the palms of the hands together. Al-though there is tension within the muscles of the arms and chest, the arms do not move. Isometric exercises are an excellent way to develop strength during the early stages of an injury rehabilitation program. Isokinetic exercises are performed at a constant velocity; that is, the speed of muscle shortening or lengthening is regulated at a fixed, controlled rate. This is generally accomplished by using a machine that provides an accommodating resistance throughout the full range of motion. Muscle actions can similarly be classified as iso-metric, concentric, or eccentric, depending on the activity the muscle needs to perform.
Like isometric exercise, isometric muscle actions are static and do not involve any joint movement. An isometric muscle action occurs during isometric exercises. A concentric muscle action causes movement of the body part against resistance or gravity and occurs when the muscle shortens.
Concentric muscle actions (also called positive work) can be performed during isotonic or isokinetic exercise. For example, the upward movement of the arm during a bicep curl is an example of a concentric muscle action. In contrast, eccentric muscle actions (also called negative work) control movement with resistance or gravity and occur when the muscle lengthens.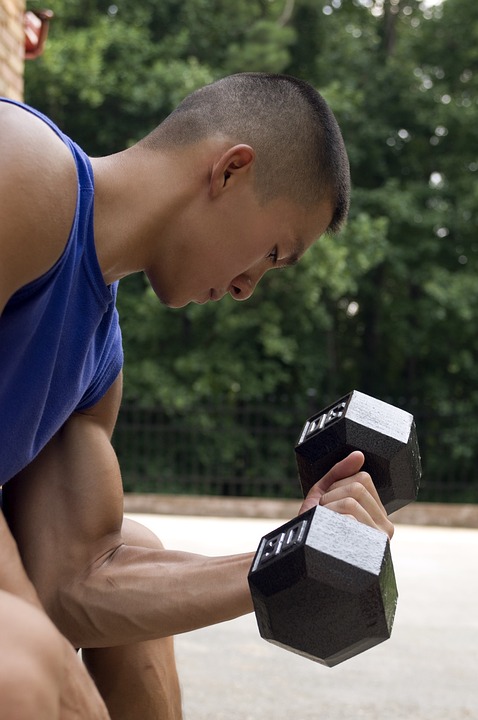 The downward or lowering phase of the bicep curl is controlled as the biceps muscle lengthens. Here, the muscle is developing tension, but the force developed is not great enough to prevent the weight from being lowered.
Types of Muscle Fibers
There are three types of skeletal muscle fibers: slow-twitch, intermediate, and fast-twitch. These fiber types differ in their speeds of action and in fatigue resistance. Because most human muscles contain a mixture of all three fiber types, it is helpful to understand each of them before beginning the strength-training process.
Slow-Twitch Fibers
As the name implies, slow-twitch fibers contract slowly and produce small amount of force; however, these fibers are highly resistant to fatigue. Slow-twitch fibers appear red or darker in color be-cause of the numerous capillaries that supply the fibers. They have the capacity to produce large quantities of adenosine triphosphate (ATP) aerobically, which makes them ideally suited for a low-intensity, prolonged exercise such as walking or slow jogging. Because of their resistance to fatigue, most postural muscles are composed primarily of slow-twitch fibers.
Fast-Twitch Fibers
Fast-twitch fibers contract' rapidly and generate great amounts of force, but fatigue quickly. These fibers have a low aerobic capacity and appear white because they are supplied by only a few capillaries. Fast-twitch fibers are well equipped to produce ATP anaerobically, but only for a short time. With their ability to shorten rapidly and produce large amounts of force, fast-twitch fibers are used during activities requiring rapid or forceful movement, such as jumping, sprint-ing, and weight lifting. In strenuous exercise, these fibers are most easily damaged and cause soreness.